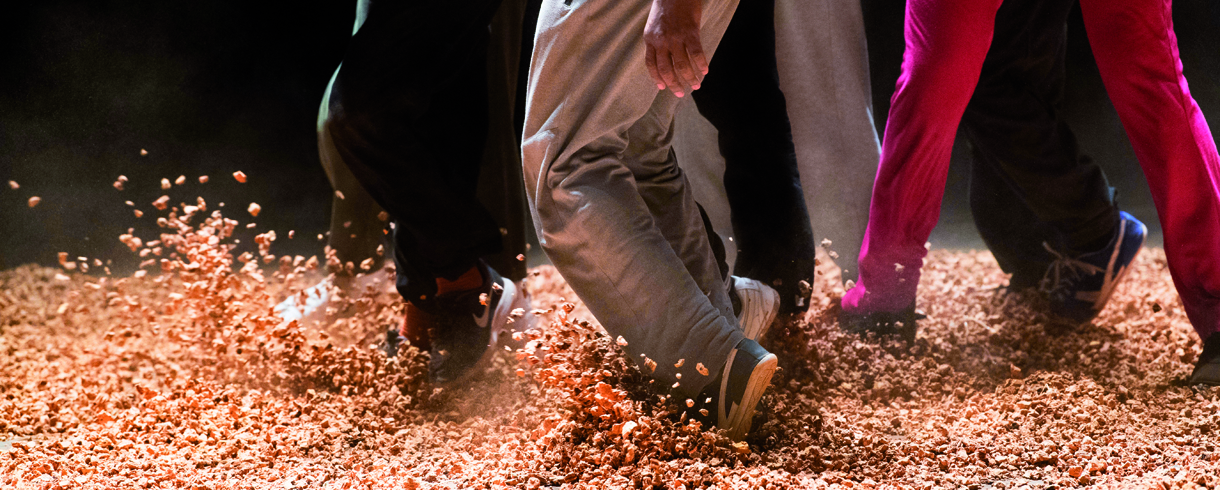 AKZAK, the impatience of interconnected youth
For 12 dancers and with live percussionist Xavier Desandre Navarre (Burkina-Faso/Morocco/Tunisia/France)
Choreography : Héla Fattoumi/Éric Lamoureux
Dancers : Sarath Amarasingam, Yasinthe Teguawende Bamogo, Meriem Bouajaja, Mohamed Chniti, Chourouk El Mahati, Adama Gnissi, Moad Haddadi, Synda Jebali, Mohamed Lamqayssi, Fatou Traore, Angela Vanoni
Composer, live musician : Xavier Desandre Navarre
Costume design : Gwendoline Bouget
Light creation : Jimmy Boury
Production : VIADANSE – Direction Fattoumi/Lamoureux
Co-productions : MA Scène nationale de Montbéliard, Le Granit Scène nationale de Belfort, Théâtre Jean Vilar – Vitry sur Seine, Chateauvallon – scène nationale
In collaboration with : La Termitière, CDC in Ouagadougou, the Nafass's formation, Marrakesh, t
With the support of the French Institute.
on tour
27  March 2020 : preview, Biennale de la danse en Afrique, Marrakesh
30 March – 10 April 2020 : Casablanca, Meknès (Morocco), Cairo (Egypt)
25-26 September 2020 : French Premiere, Zébrures d'automne,
Festival des Francophonies, Limoges
Season 2020/2021 : French and European tour
AKZAK, the impatience of interconnected youth
Creation 2020
The foundation of AKZAK draws from the notion of "identity as relation," an essential component in our thirty-year artistic partnership and a driving force for our productions as well as our ten years as directors of the Danses d'ailleurs international festival in Caen. Our frequent exchanges with the African continent helped us develop strong ties that have led to the reunion of young dancers hailing from various dance groups based in Ouagadougou, Marrakesh, Tunis and France. Reaching out and welcoming: such is the dual impulsion that prompted us to take on board "human block" made out of intertwined singularities and create a choral choreographic piece in dialogue with an original soundtrack. Guided by the groove as the true "rhythmic effect of rhythm," we explore notions of structure, periodicity, and movement. Tied to these notions, we bring into play a number of characteristics of rhythm as a phenomenon, such as syncopes, tempo, unison and effects of contrasts. They allow for the emergence of metaphors that are the expression of the energy of these young dancers and their impatience to open up a new "universal horizon" under the banner of fraternity.
ARTISTIC STATEMENT
AKZAK derives from aksak, the Turkish word for "limping," which, in Ottoman musical theory, refers to the irregular cadences in Balkan music combining binary and ternary rhythms
.
Forming an "interconnected group that connects with the world," like an egregore — understood as the synthesis of separate energies that come together, attune with each other, and become amplified as a collective force. A collective energy born from individual forces, bodily states that irresistibly interact with each other, gathering strength and directing their focus on infinitesimal events; a self-overflow, summoning notions of sharing and of fraternity.
Enabling a cohesive force to emerge from singularities, revealing gaps that make up as many in-between spaces, where lies a genuine possibility for connection.
A RHYTHM-BASED WRITING
AKZAK is conceived as a return to basics through a choral score gathering 10 to 12 dancers, in dialogue with music scored and performed by Xavier Desandre Navarre. This virtuoso musician and percussionist has built a singular musical identity by blending eclectic rhythms within a combinatory approach aimed at exploring the richness of musical hybridizations.
With its percussive and harmonic expressions, rhythm transcends human societies and cultural horizons past and present. It is made out of impacts and resonances acting as sensorial and perceptual shocks on and through the body. Syncopation, rupture, impact, suspense, fluidity, continuity, velocity, rebound: these are a few of a number of supports, retreats and triggers that may enable the emergence of dance. A razor-sharp dance, sculpted with a calligraphic energy. A dance made out of contrasts, mobilizing all the bodily and sensitive areas, from the depths to the surface, from the detail of a fingertip to the whole body, revealing a shared imagination.
A TRANS-CONTINENTAL PRODUCTION
The work of choreographers Héla Fattoumi and Éric Lamoureux on the AKZAK original production extends from 2018 to 2021, with regular research sessions between Tunisia, Morocco, Burkina-Faso and France. Workshops and tryouts will be organized with young dancers in training, in partnership with professional training organizations: Yeelen Don in Ouagadougou, Nafass in Marrakesh, and the choreographic center and association Hayyou'Raqs in Tunis.
These first encounters will result in the creation of a group of performers and the pooling of choreographic and musical material for AKZAK. Additionally, a 3-year decentralized cooperation project (2019/2021) has been established between VIADANSE and La Termitière CDC in Ouagadougou, with the mission of accompanying the young dancers training at Yeelen Don in their social and professional insertion. This project will contribute to the dynamics of exchange and transmission among the group assembled by Héla Fattoumi and Éric Lamoureux.