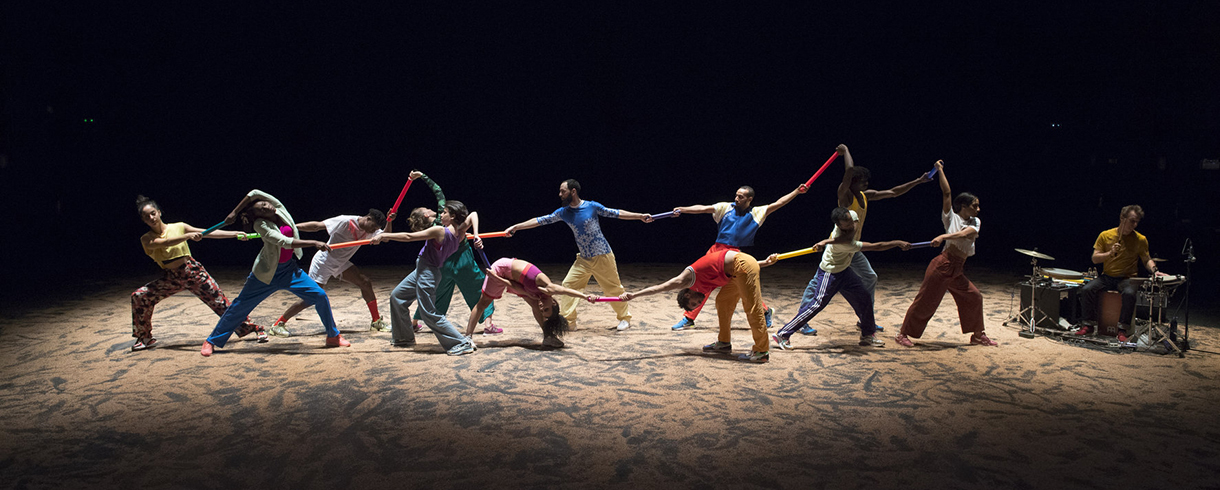 AKZAK
For 12 dancers and with live percussionist Xavier Desandre Navarre (Burkina-Faso/Morocco/Tunisia/France)
Choreography / Setting : Héla Fattoumi / Éric Lamoureux
Composer, live musician : Xavier Desandre Navarre
Dancers : Sarath Amarasingam, Téguawendé Yasinthe Bamogo, Juliette Bouissou, Meriem Bouajaja, Mohamed Chniti, Chourouk El Mahati, Adama Gnissi, Moad Haddadi, Synda Jebali, Mohamed Lamqayssi / Mohamed Fouad, Fatou Traoré, Angela Vanoni
Artistic consultant : Stéphane Pauvret
Lighting design : Jimmy Boury
Costums : Gwendoline Bouget
Costums assistant : Bérénice Fischer
Assistant : Johanna Mandonnet
Technical Direction : Thierry Meyer
Lighting Engineer : Manon Bougeot / Maxime Scherrer
Sound Engineer : Valentin Maugain / Brendan Guerdat
Production : VIADANSE, Centre chorégraphique national de Bourgogne Franche-Comté à Belfort
Coproductions : Le Théâtre Scène nationale de Mâcon, Châteauvallon Scène nationale, MA Scène nationale de Montbéliard, Le Granit Scène nationale de Belfort, Théâtre Jean Vilar à Vitry-sur-Seine
In collaboration with : The Termitière CDC in Ouagadougou (Burkina Faso), the education Nafass in Marrakech (Maroco)
With the support of French Institute (Maroc, Burkina Faso, Tunisie, Paris), Organisation internationale de la Francophonie, DAECT (Délégation à l'Action Extérieure des Collectivités Territoriales) as part of the decentralized cultural cooperation project between the cities of Belfort and Ouagadougou, and the Regional Council of Bourgogne Franche-Comté as part of the international solidarity plan.
This show  received the « Africa 2020 » label.
TOUR 20/21
25 and 26 September: French Premiere, Zébrures d'Automne Festival,
Les Francophonies, Limoges
2 october : Théâtre Jean Vilar, Vitry-sur-seine
8 october : DSN, scène nationale de Dieppe
13 october : Tangram, scène nationale Evreux-Louviers
16-17 october : Tropiques Atrium, scène nationale de Fort-de-France, Martinique
28 october : Théâtre Falaki, D-CAF Festival, Cairo, Egypt
8-9 november : Nebia, Bienne, Switzerland
12-13 november : Granit, scène nationale de Belfort
17 november : Scènes du Jura, scène nationale de Dole Lons-le-Saunier
4 december : Théâtre Mohamed V, Rabat, Morocco (TBC)
8 december : Studio des Arts Vivants, Casablanca, Morocco (TBC)
12-19 december 2020 : Dialogues de corps, Ouagadougou, Burkina Faso
12-19 december 2020 : Ankata, Bobo Dioulasso, Burkina Faso (TBC)
29-30 january 2021 : Halle aux Grains, scène nationale de Blois
4 february 2021 : Le Théâtre, scène nationale de Mâcon
10, 11, 12 february 2021 : MAC de Créteil, scène nationale
16 et 17 february 2021 : Maison de la Culture de Bourges, scène nationale
12 march 2021 : Espace des Arts, scène nationale de Chalon-sur-Saône
25 – 27 march 2021 : Biennale de la danse en Afrique, Marrakech, Morocco
1st april 2021 : Théâtre Debussy, Maisons-Alfort/Biennale de danse du Val-de-Marne
3 april 2021 : Théâtre Louis Aragon, Tremblay-en-France/Biennale de danse du
Val-de-Marne
6 april 2021 : Scène nationale Châteauvallon-Liberté
9 april 2021 : Artdanse, Dancing – Centre de Développement Chorégraphique de Dijon
June 2021 : Carthage Dance Days, Tunisia (TBC)
the impatience of interconnected youth
AKZAK is a new original production by Héla Fattoumi and Éric Lamoureux.
Most of the young dancers they have gathered hail from the African continent: Burkina Faso, Morocco, and Tunisia. Together, they form a "block" of intertwined singularities, inscribing the dance piece within its political dimension, like a catalyst for notions of hospitality, fraternity, solidarity between peoples in order to reactivate an "imaginative and listening agency."
Dancing together
For almost thirty years, Héla Fattoumi and Éric Lamoureux have been following an approach articulated around a dialogue between the North and the South.
The choreographic duo has forged ties with emerging structures dedicated to contemporary dance. In Ouagadougou, with choreographers Salia Sanou and Seydou Boro, founders of the Centre de Developpement Chorégraphique La Termitière, they have created the conditions for the emergence of VIAOUAGA, a project created in partnership with the Yeelen Don training program bringing together around twenty young dancers. They have developed similar links in Morocco, with choreographer Taoufiq Izeddiou, founder of the On Marche festival and initiator of the Al Mokhtabar ["the laboratory"] training program, since renamed Nafass ["air," "breathing"] in Marrakech. In Tunisia, they are in contact with several figures, such as Imed Jeamaa and Syhem Belkodja, as well as Marwen Errouine and Carthage Dance Days, all of which are actively engaged in the history of contemporary dance and contributing to its diversity. All them, as Africans from this vast continent, are however confronted with political and economic hurdles that hinder the pursuit of their work and particularly prevent them from travelling outside of their country. Young African performers are often self-taught and often hold multiple jobs while taking part in trainings and workshops in contemporary dance.