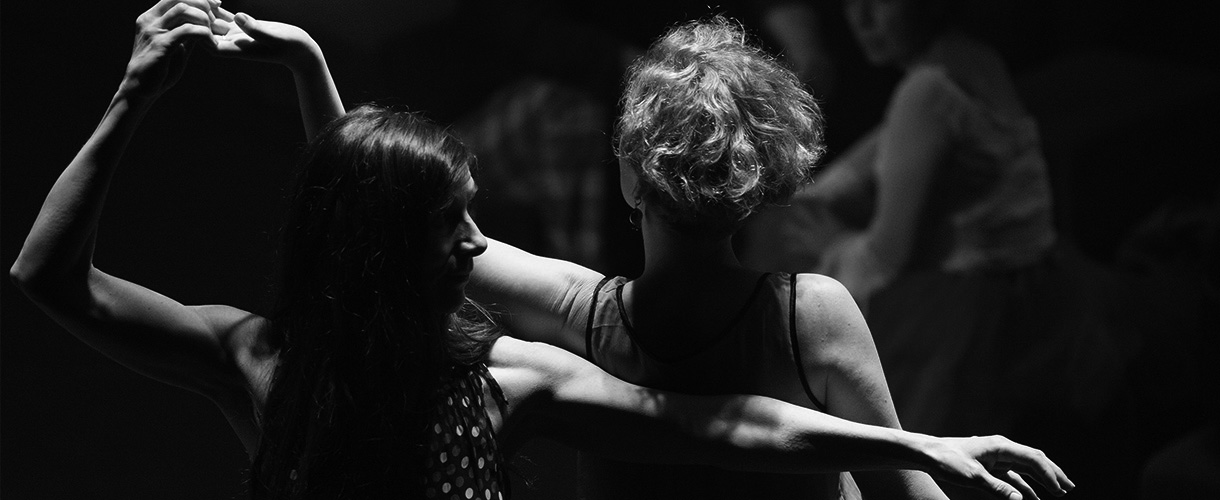 Private: Circle
Creation 2015/ 2016
Creation May 7, 2009 by 26 Japanese dancers, Kyoto, Hot Summer Festival
Revival January 23, 2016 as part of Frimats and the Évidanse season
Conception, choreography: Héla Fattoumi / Éric Lamoureux
In collaboration with professional and amateur dancers
Sound design: Éric Lamoureux
Lighting design : Xavier Lazarini
Production creation 2009 : Centre Chorégraphique National de Caen/Basse-Normandie (CCNC/BN)
Production creation 2015/2016 : VIADANSE Centre chorégraphique national de Franche-Comté à Belfort
Circle 2015/ 2016 is supported by the Cultural Cooperation Fund of the Swiss Jura.
January 23,2016 Festival Frimats & saison Évidanse, Le Granit – Scène nationale, Belfort
May 14,2016 Fête de la danse & saison Évidanse, Centre de culture et de loisirs, Saint-Imier
May 15,2016 FIMU / Fête de la danse, VIADANSE, Belfort
June 25,2016Jours de danse – festival de la compagnie Pernette, Besançon

Private: Circle
Creation 2015-2016
The Circle of Héla Fattoumi and Éric Lamoureux is, above all, rooted in a pedagogical project of artistic practice including amateur dancers and non-dancers. It will be constructed over several weekends or several weeks, with the venues and staffs willing to host them.
Its uniqueness is in part due to its refusal to assign authority of the choreographer/ creator: its intent is to integrate amateur practice with the creative act. What interests Héla Fattoumi and Éric Lamoureux is less the teaching of an overly detailed choreographic work or a particular technical aspect of dance, but instead to envisage an experimentation by their imaginative and imaginary bodies (far beyond the limits of a dance class or a learning period and a rendering of the required material). They hope to create a space for encounters and extraordinary exchanges between these amateur and non-dancers, mixed with a few invited professional dancers.
For the two choreographers the idea was indeed to irrigate, to compare and share widely differing levels of practice – sharp for some, less so for others – for an outstanding, generous performance which would confound expectation and evoke a specific series of emotions.
Circle is also tied into the exploration of a choreographic theme relating to the duo Solstice (remix) by Héla Fattoumi and Éric Lamoureux, a kind of couple dance. The principle of the piece is based on the learning of this movement pattern, which is a sort of waltz: a body permanently attached to/ entwined with another, and open to the creation of multiple combinations.
In a circular movement, the dancer couples are invited to show us the collections of pas de deux, bouncing off each other, dialoguing, mixing, intertwining, brushing against each other, exchanging with each other.
Some of them are timid, some are wildly enthusiastic, going as far as sado-masochism for some – yes, that happened! these will be as much invented encounters as real couples working together, all moving around the spectators clustered in the middle of the dance space, in a sort of central island.
The audience, now stimulated into changing its way of looking at things, choosing its axes and perspectives, will be caught up in this "circle of tenderness" which, as it accelerates, will blur into a "chaos of shared exhilaration."
Creation 2015/ 2016
Creation May 7, 2009 by 26 Japanese dancers, Kyoto, Hot Summer Festival
Revival January 23, 2016 as part of Frimats and the Évidanse season
Conception, choreography: Héla Fattoumi / Éric Lamoureux
In collaboration with professional and amateur dancers
Sound design: Éric Lamoureux
Lighting design : Xavier Lazarini
Production creation 2009 : Centre Chorégraphique National de Caen/Basse-Normandie (CCNC/BN)
Production creation 2015/2016 : VIADANSE Centre chorégraphique national de Franche-Comté à Belfort
Circle 2015/ 2016 is supported by the Cultural Cooperation Fund of the Swiss Jura.
January 23,2016 Festival Frimats & saison Évidanse, Le Granit – Scène nationale, Belfort
May 14,2016 Fête de la danse & saison Évidanse, Centre de culture et de loisirs, Saint-Imier
May 15,2016 FIMU / Fête de la danse, VIADANSE, Belfort
June 25,2016Jours de danse – festival de la compagnie Pernette, Besançon