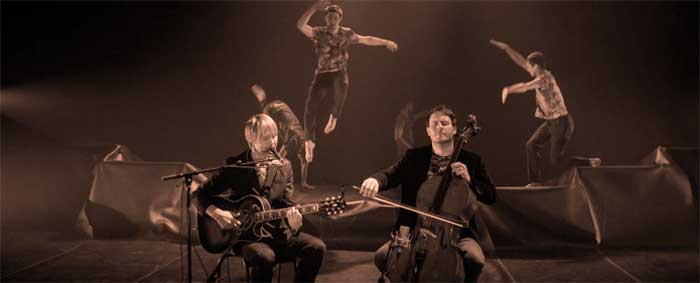 Concert-dansé
Creation November 21, 2013, Centre Chorégraphique National de Caen/ Basse-Normandie
Festival Les Boréales
Voice, guitar and harmonica: Peter von Poehl
Cello: Zach Miskin
Choreograpy: Héla Fattoumi/Éric Lamoureux
In collaboration with the dancers: Sarath Amarasingam, Matthieu Coulon, Jim Couturier, Bastien Lefèvre, Philippe Rouaire
Lighting design/ lighting technician: Xavier Lazarini
Sound technician: Thomas Roussel
Set design: Stéphane Pauvret in collaboration with Héla Fattoumi/Éric Lamoureux
Coproduction: Centre Chorégraphique National de Caen/Basse-Normandie (CCNC/BN) et A Gauche de la Lune (AGdL)
Concert-dansé
Peter von Poehl & Héla Fattoumi/Éric Lamoureux
After the release of his third studio album Big Issues Printed Small, the pop singer and composer Peter von Poehl presented his new songs, accompanied by his guitar, the cellist Zach Miskin and some dancers. A unique danced concert conceived by one of the masters of melody and two atypical French choreographers, Héla Fattoumi and Éric Lamoureux.
Invited by Peter von Poehl, Héla Fattoumi and Éric Lamoureux have conceived, with the help of several of their dancers, choreographic interludes which will fit harmoniously yet parsimoniously into the concert of one of the most acclaimed Swedish artists.
In an uneven space, with covered platforms placed upstage, the two choreographers and their dancers, echoing the heady riffs of the eponymous song from the last album of the songwriter, created unusual solos performed over and over in a loop, while on the perimeter of the central space used by the two musicians, the dancing is more choral and minimal, even formal. Dancers balance, their long arms and legs tracing tight lines to Elisabeth and the hit song The Story of the Impossible; or do little catchy aloof jumps to the rhythm of 28 Paradise, a song used on the soundtrack of Valérie Donzelli's film, Main dans la main.
From these different physical envelopes surrounding Peter von Poehl and Zach Miskin, emerges a constantly renewed dialogue between music and dance. Intimate and delicate.
Creation November 21, 2013, Centre Chorégraphique National de Caen/ Basse-Normandie
Festival Les Boréales
Voice, guitar and harmonica: Peter von Poehl
Cello: Zach Miskin
Choreograpy: Héla Fattoumi/Éric Lamoureux
In collaboration with the dancers: Sarath Amarasingam, Matthieu Coulon, Jim Couturier, Bastien Lefèvre, Philippe Rouaire
Lighting design/ lighting technician: Xavier Lazarini
Sound technician: Thomas Roussel
Set design: Stéphane Pauvret in collaboration with Héla Fattoumi/Éric Lamoureux
Coproduction: Centre Chorégraphique National de Caen/Basse-Normandie (CCNC/BN) et A Gauche de la Lune (AGdL)