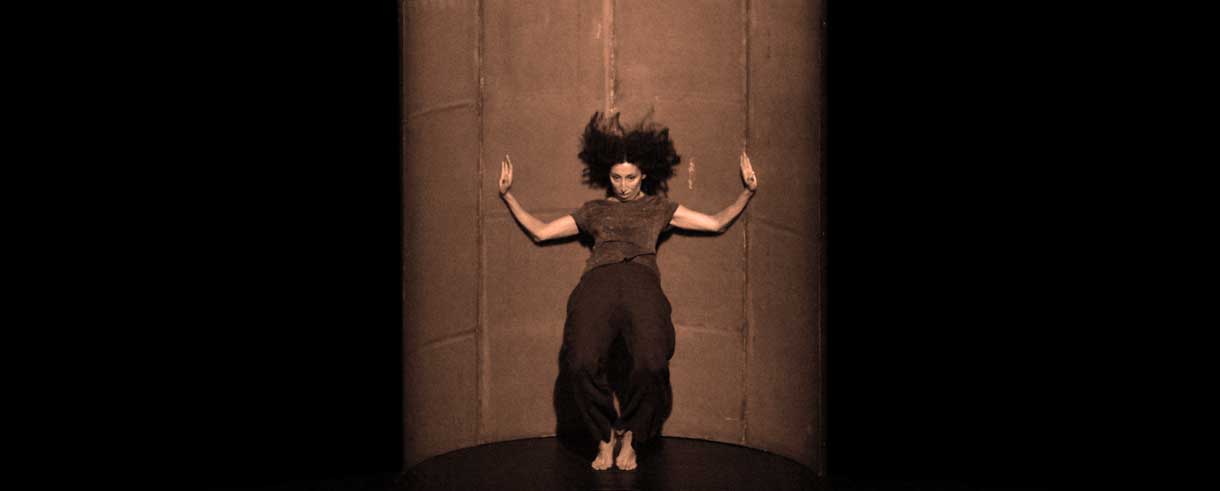 Wasla (solo), Ce qui relie…
Premiere September 12th, 1998, Théâtre du Radiant, Caliure-et-Cuire (FR) Biennale de danse de Lyon
Choreography: Héla Fattoumi / Eric Lamoureux
Performer: Héla Fattoumi
Music: Christophe Séchet
Set design: Raymond Sarti
Lighting: Xavier Lazarini
Costume: Sandrine Pelletier
Production: Cie Fattoumi-Lamoureux, Biennale de Danse de Lyon, Théâtre de la Ville (Paris)
With the support from Théâtre du Muselet / Scène Nationale de Châlons-en-Champagne, AFAA
Wasla (solo), Ce qui relie…
The eighth Biennale de danse de Lyon has chosen the Mediterranean as its theme and has commissioned a new work from the Compagnie Fattoumi-Lamoureux.
Wasla is a work for eight dancers from which the solo of Héla Fattoumi is excerpted.
To create Wasla (solo), Héla Fattoumi went back to her Tunisian roots. She was invited to rehearse in Tunis and found in the center of the médina, a space that was not a dance studio, but which had a wood floor and blue and white walls in which there was a small alcove.
The same alcove was recreated onstage, a setting resembling an open jewelry box. From its shallow curve cradling the dancer's back,a myriad of coiling shapes emerge, enveloping and revealing a body as its own chrysalis. Héla Fattoumi slithers from side to side of the alcove; when she does peel herself away, we see layers of her vanished footprints, tracings of her body. Emerging from her alcove and shelter, she enters a troubled, sensual space where a diaphanous spasm transfixes and then changes her face, her serpentine hands insinuating desire into the most secret places in her body. The dance is a state of grace, flowing over a traditional melody by Hamza El Din which seemingly suspends time in its shimmering.
Premiere September 12th, 1998, Théâtre du Radiant, Caliure-et-Cuire (FR) Biennale de danse de Lyon
Choreography: Héla Fattoumi / Eric Lamoureux
Performer: Héla Fattoumi
Music: Christophe Séchet
Set design: Raymond Sarti
Lighting: Xavier Lazarini
Costume: Sandrine Pelletier
Production: Cie Fattoumi-Lamoureux, Biennale de Danse de Lyon, Théâtre de la Ville (Paris)
With the support from Théâtre du Muselet / Scène Nationale de Châlons-en-Champagne, AFAA